Message

Toshiyuki Inaba
Chairman
Japan DIY Industry Association
The Japan DIY Industry Association will be hosting "JAPAN DIY HOMECENTER SHOW 2017" at the International Exhibition Hall in Makuhari Messe for period of three days from August 24th (Thu.) through August 26th(Sat.), 2017.
The "Japan DIY Homecenter Show", which will be held this year for the 53rd time (the total number of shows in both East and West Japan) was first held in 1978. It is now one of the largest comprehensive lifestyle-related exhibitions in Japan and aims to help popularize and raise awareness of the sound practice of DIY, contributing to the over all development of the home-improvement center industry and to a richer lifestyle for people living in Japan through cooperation between manufacturers, wholesalers and retailers of DIY-related products and materials, bringing together a wide range of products and services under one roof, and leading to the creation of vibrant business opportunities, the exchange of ideas, and improved publicity for the industry vis-a-vis general consumers.
We are extremely grateful as this success is the result of understanding and cooperation shown to our association by various lifestyle-related related parties including numerous corporations and organizations.
We are working with all our energies to achieve our target of approximately 500 exhibitors and 120,000 visitors.
The theme of this year's show is "Experience and Feel DIY! Home Improvement Centers: Workshops of the Future". This theme expresses a desire for visitors to experience "making high value added things" through experiences and feelings of concepts, stories and user experiences of making things, in addition to simple handcrafts. This will enrich the feelings and lives of people to increase their concern and interest in home improvement centers in the future. Accordingly, we hope that this will lead to a boost in visits to home improvement centers and further enliven the industry.
We will organize this year's show by setting up and offering three large theme zones. We will again hold the "Shining DIY Women" zone to support the DIY efforts of women. This zone is obtaining a great deal of media attention and is also extremely popular among the exhibition visitors every year. Moreover, we will have the "Children and Future Zone." This will target the children and young people in their 20's with content that is expected to become popular in the future under the theme of next-generation DIY. We will also have the "Men's Workshop Zone." This will target adult men. In addition, as in previous years, we will also conduct the "Japan DIY Product Competition" which will together introduce and exhibit a range of new products, hit products, and environmentally-friendly products from various exhibitors, from which excellent products are selected for awards through an assessment by expert judges and a popularity vote among our visitors. We will also hold a business matching event "HOMECENTER BUSINESS MATCHING", an event for the exhibitors to hold business talks with experienced buyers who are members of our association. A further service on offer is free interpreting, for overseas exhibitors/visitors wishing to exchange information with Japanese visitors/exhibitors. We are also hoping to set up various events sections where exhibitors can take part in a number of different ways to publicize their own products. In order to encourage visits to the exhibition by industry representatives, members of the press, and members of the public, we will of course be publicizing the event itself, but we will also engage in a publicity campaign that will feature information on the exhibitors and other information across a wide range of media channels.
That completes my summary explanation of the show and our major events, and I hope that everyone in the industry will be able to exhibit and take part in the Japan DIY Homecenter Show 2017.
Feb. 2017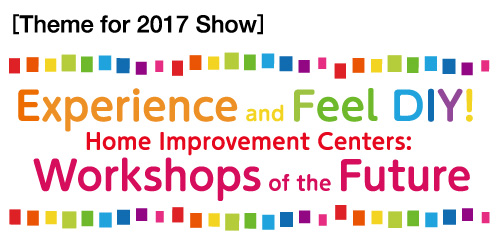 Show Outline
Period

August 24 (Thu.) - 26 (Sat.), 2017 9:30am -5:00pm
*Closes at 4:00pm on the last day

Theme

Experience and Feel DIY!
Home Improvement Centers: Workshops of the Future

Venue

MAKUHARI MESSE 2-1 Nakase, Mihama-ku, Chiba-shi, Chiba 261-8550
http://www.m-messe.co.jp

Organizer

Japan DIY Industry Association

Sponsors (Planned)

The Ministry of Economy, Trade & Industry / Chiba Prefecture /
Chiba City / Japan External Trade Organization (JETRO) /
IHA (International Federation of Hardware and Housewares Associations)

Admission

Free of charge for trade visitors (General public: 500 JPY)
Exhibit Categories
Tools / Power Tools
Hardware / Ironmongery
Repair Materials
Painting Materials / Coating Materials
Electric Parts / Lighting Equipment
Home Electric Appliances
Water Supply and Drainage
Working Wear
Housewares / Homecare Products
Kitchenware / Tableware
Household Commodity (detergent and sanitary goods)
Interior Materials / Storage Cabinets
Pet-care Items (including pet medicinal products and pet wear)
Gift / Party Items
Hobby Items / Handcraft Items
Toys / Models
Four / Two Wheeled Vehicle Materials
Sporting Goods / Outdoor Goods
Stationery / Office Supply
Healthcare Materials / Beauty Products
Medicinal Product
Food / Beverage / Alcohol
Disaster Prevention / Anticrime Device
Ecological / Energy-Saving Items
Information / Distribution / Services
Timber / Building Materials
Gardening / Plants
Agricultural Materials / Equipment
Exterior Materials
Housing Equipment
Store Furniture
Childcare / Baby Goods
Association / Education Institution / Governmental Agency